Meet Dr. Nikolovski
Mercury Free, Holistic, Cosmetic, and Family Dentist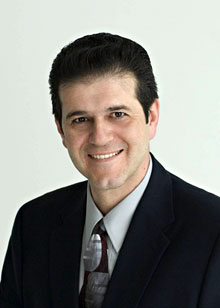 Mission Statement:
"When I began practicing dentistry, I made a promise to myself to provide my patients with gentle and caring dentistry – to treat them like I would like to be treated and the way I'd like my family to be treated. Over the years, nothing has changed. I still take great pride in treating patients like family, and I am dedicated to keeping my promise."
Meet Dr. Nikolovski
Dr. Nikolovski's office is mercury-free (amalgam/silver filling-free) and mercury-safe and he is dedicated to the practice of health-based dentistry. His goal is to treat his patients in the most healthy, caring, holistic way possible and to share information about dental wellness with his patients so that they can make educated decisions about their oral health. He fully understands the critically important relationship of oral to overall health and realizes that; "You cannot be truly healthy without good oral health!"
Holistic Dentistry is a philosophy that recognizes that the teeth and associated oral structures are a part of the whole body. Because of this important relationship, we offer a wide range of treatment options. Dr. Nikolovski also takes a unique Whole Body approach to oral health care; combining sound dental science, techniques, technology, and personal experience with a deep concern for his patients' health, emotional well-being and comfort.
As your Oral Health Doctor, Dr. Nikolovski is aware that mercury vapor, dental infections, and TMJ problems can have a negative impact on oral and overall health. Because of these concerns, we focus on patient education and strive to remove mercury amalgam (silver) fillings in a safe way. To accomplish this, we utilize removal protocols based on recommendations of the prominent holistic dental organizations.
Dr. Nikolovski's Whole Body philosophy of dentistry stresses the use of biocompatible dental materials whenever possible.  He also works closely with highly qualified health professionals to assist him in his efforts to return the patient to optimal oral and overall health. His Health Focused - Patient First approach to holistic dentistry means that he treats the teeth, jaw, and related oral structures with specific regard to how that treatment will affect the entire body.
Dr. Nikolovski believes that continuing education is a powerful tool that allows him to give you and your family the best, state-of-the-art dental care. Each year, he takes many hours of continuing education courses and has advanced training in many areas of holistic, cosmetic, and conventional dentistry.
Our office uses the latest in dental equipment and technology in order to provide the patient with healthy treatment options and services, including:
Digital X Rays
Preventive Dental Treatment and Education
Oral Cancer Screening
Mercury & Metal free restorations
Periodontal (Gum) Treatment
Advanced Cosmetic Dentistry
Tooth Whitening
Full & Partial Dentures
Full-Mouth Reconstruction
TMJ Diagnosis & Treatment
Biocompatible Dental Material Testing
Sedation Dentistry
Dentistry for Children
Diagnodent: Early Cavity Detection
Invisalign: Hidden Braces
Our office also specializes in state of the art restorative and cosmetic dentistry to correct, restore or enhance your smile to fit your own unique facial form. Our goal is to integrate esthetics as part of total dental and overall health while creating an overall pleasing and natural facial appearance.
Dr. Nikolovski can create the smile of your dreams - just imagine yourself with a beautiful, new, natural looking smile!
Dr. Nikolovski is associated with a number of prestigious dental organizations, including:
International Association of Mercury Safe Dentists (IAMSD)  http://www.hg-free.com/
International Academy of Oral Medicine and Toxicology (IAOMT) www.iaomt.org
Mercuryfreedentists.com, www.mercuryfreedentists.com
Talk International http://www.talkinternational.com/holistic-dentists/biological-dentist-global.html
American Dental Association (ADA) www.ada.org
Illinois State Dental Society (ISDS) www.isds.org
Chicago Dental Society (CDS) www.cds.org
Academy of General Dentistry (AGD) www.agd.org
A Commitment to Education:
Bachelor of Science – Loyola University, Chicago
Bachelor of Dentistry – University of Illinois, Chicago
Doctorate of Dental Surgery – University of Illinois, Chicago