Restore Your Smile
Veneers
If your teeth suffer from gaps, chips, stains, or discolorations you may be a candidate for porcelain veneers, a highly effective and minimally invasive cosmetic procedure that can achieve beautiful results.
Porcelain veneers are thin facings custom-made of the highest quality ceramic materials that are designed to fit perfectly over the front of your teeth. One of the most conservative cosmetic treatments available, veneers can mask a host of dental imperfections to give you the smile that you have always wanted. Porcelain veneers not only enhance and improve the shape of your teeth, they are able to create an overall whiter and brighter smile.
One of the most appealing aspects of the process of fabricating porcelain veneers is that they involve minimal tooth preparation and take just a few visits. Porcelain veneers, once they are fabricated and fitted, are permanently bonded to the underlying teeth. The result is a naturally pleasing smile that is both strong and durable.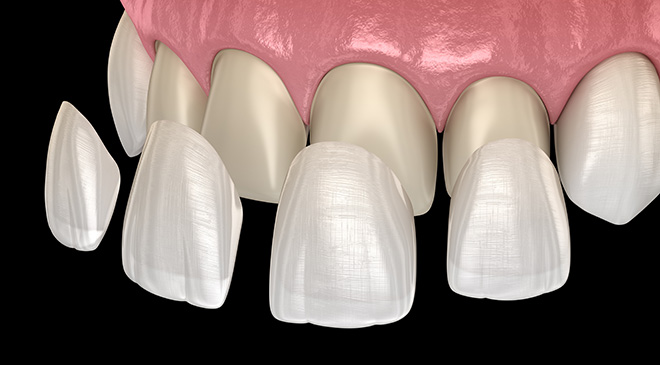 Crowns
The terms dental crowns and caps are synonymous. When dental decay, cracked fillings, root canals or clenching and grinding of the teeth have caused extensive damage to the underlying tooth structure, a dental filling may not be a sufficient restoration. The only way to completely restore the cosmetic appearance and function of this tooth is often full coverage with a dental crown. The good news is that a completed dental crown looks and feels like a natural tooth.
In addition to restoring a single natural tooth, crowns can be used in other situations including being the supporting ends of a dental bridge, as a dental implant restoration, or as coverage for a cracked tooth to prevent further breakdown. A crown may be also be indicated when a discolored or stained tooth needs to be restored to have a more pleasing natural appearance. Crowns can be made of either of porcelain baked onto a metal substrate, all-porcelain, or many of the new ceramic materials that have been developed.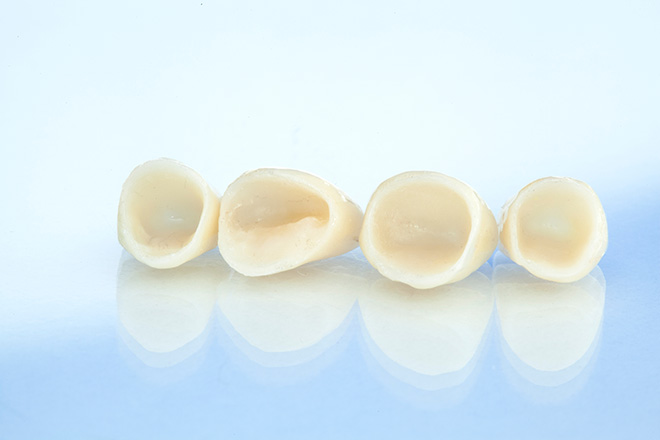 Bonding
In terms of repairing dental imperfections, masking of discolorations, or the closure of gaps between teeth, a dental bonding procedure is considered one of the most effective, economical, and quickest methods of care. Unlike porcelain veneers or ceramic crowns, which are necessary to conceal more significant defects, a dental bonding procedure is a minimally invasive way to transform a less-than-perfect tooth into one that appears flawless.
We use the latest generations of dental materials and composite resins to perform bonding procedures that restore tooth structure lost to dental chips, or decay, as well as to conceal stains or discolorations, close gaps, and improve the look of misshapen or undersized teeth. Our skilled and experienced professional team combines the art and science of dentistry to achieve aesthetically pleasing, durable, and long-lasting results of care. Your new dental bonding will appear naturally beautiful so that you can feel confident sharing your smile with the world.
To find out more about how we can improve the look, health, and function of your smile with dental bonding procedures, or one of the many other restorative and cosmetic dental solutions that we provide, give us a call today.